Welcome to a list of recommended monitors for programming – By a programmer, for programmers. I reckon there are a ton of these "recommendations" posts on the Internet, and "the best monitor" can be subjective to everyone.
So instead of going "one direction", the recommendations here will cover a range of common consideration factors instead. Hopefully, help you guys to better decide on what to get – Read on!
TABLE OF CONTENTS
RECOMMENDATION LIST
Here is a list of the recommended monitors. Please note – I have sorted these by category, but not in any recommendation order otherwise.
OVERALL GOOD FOR WORK
1. DELL ULTRASHARP SERIES
Online Price
: From $300.00 (New)
Highlights
: Ultrasharp IPS display, crisp text, and excellent image quality. Good value for money.
Get From eBay
:
Click here
You might know Dell as a computer manufacturer, and yes, they do have their own line of monitors (obviously). What is rather surprising is that the Ultrasharp series is actually pretty good given the price point – Just do a "Dell ultrasharp review" search online. These monitors produce sharp crisp images as the name implies, they are just perfect for working with text and code.
2. ASUS DESIGNO SERIES
Online Price
: From $600.00
Highlights
: Sleek design, 4K monitor, integrated Bang & Olufsen speakers, Eye Care technology, 1.07B colors!
Get From eBay
:
Click here
Ever since the rise of popularity in gaming, Asus has been working hard on creating better monitors. The Desgino series is not specifically for gaming, but more for the professionals who want image quality. This monitor series has plenty to boot – Sleek design, good response time, crisp images, good speakers, and insane color depth. It even has a built-in blue light reduction, good for programmers who stare at the screens for extended periods.
3. ASUS PROART SERIES
Online Price
: Starting from $400 for 24″ models
Highlights
: Crisp and accurate colors. Professional monitors for artists, and has the eye care blue light reduction thing as well.
Get From eBay
:
Click here
Here, we have another ASUS series on the list. This one is the ProArt, and as you can guess from the name – It is specially made for artists and professionals who demand image quality. They can get pretty pricey on the higher-end, but you can rest assured that it comes with quality.
4. LG ULTRAWIDE SERIES
Online Price
: From $300.00
Highlights
: Ultrawide IPS monitor. Nice and crisp images. Good dual-screen alternative.
Get From eBay
:
Click here
LG is known for its quality panels, and their ultrawide is not an exception – Crisp colors, good overall performance. This series is a good consideration for you guys who want to go wide without dual monitors… AND not burn a hole in the wallet.
5. SAMSUNG CF390 SERIES
Online Price
: From $250
Highlights
: Decent budget curved monitor. Full HD, respectable 4ms response time.
Specs
: 1920 X 1080 resolution, 24″+ screen size, 16:9 aspect ratio.
Get From eBay
:
Click here
Looking for a curved screen that will not break the piggy bank? Look out for the Samsung 390 series. Although they are only full HD (1920 x 1080), they still have a respectable response time, and they do dish out some good quality images.
6. ALIENWARE AW3420DW
Online Price
: From $1000.00
Highlights
: Curved ultrawide screen with stunning refresh rate and G-Sync.
Specs
: 3440 X 1440 resolution, 34″ screen size, 21:9 aspect ratio, response time 2ms, refresh rate 120 HZ.
Get From eBay
:
Click here
Alienware is Dell's gaming brand, and this one has quite a lot of display muscles. A gorgeous curved ultrawide screen, fast response, and stunning refresh rate. It does cost quite a bit, but it will definitely satisfy the demanding folks.
PORTABLE MONITORS
7. ASUS ZENSCREEN SERIES
Online Price
: From $200.00
Highlights
: Portable full HD screen. Slim, lightweight, USB powered.
Get From eBay
:
Click here
Need a portable screen extension for your laptop? Extra space for coding? Check out the ASUS Zenscreen series – A portable screen that is USB powered, in full HD, and just about the size of a tablet.
8. AOC I1659FWUX
Online Price
: From $180.00
Highlights
: 16″ Full HD portable monitor. USB-C powered.
Specs
: 1920 X 1080 resolution, 15.6″ screen size, 16:9 aspect ratio, response time 5ms.
Get From eBay
:
Click here
This contender from AOC has an actual screen size of 15.6″, even though it is marketed as 16″. But it is in full HD, has a speedy 5ms response time, and uses USB-C. An overall mighty decent travel companion.
BUDGET MONITORS
9. SCEPTRE MONITORS
Online Price
: From $80.00
Highlights
: Budget monitors. Not the best, but decently good "B" grade monitors.
Get From eBay
:
Click here
I am not going to add any particular models here, as Sceptre pretty much produces a lot of budget monitors. While they are not the best performing monitors in the market, you can be sure that they don't cause your eyes to bleed. An overall mighty good choice for people who are on a tight budget.
10. VIOTEK MONITORS
Online Price
: From $200
Highlights
: Decent budget monitors.
Get From eBay
:
Click here
Viotek is another brand that I will recommend for budget monitors. Again, they are not the best in the market, but still decently good.
11. DELL S SERIES
Online Price
: From $100
Highlights
: Full HD, highly affordable.
Specs
: 1920 X 1080 resolution, 23″+ screen size, 16:9 aspect ratio, response time 8ms.
Get From eBay
:
Click here
From good old reliable Dell again. If you want a decently good monitor that will not burn a big hole in your wallet too, the S-series is a good choice.
STUFF TO CONSIDER
For you guys who are interested to know more, here is a section on some of the stuff to look out for while choosing a monitor.
SCREEN SIZE &
ASPECT RATIO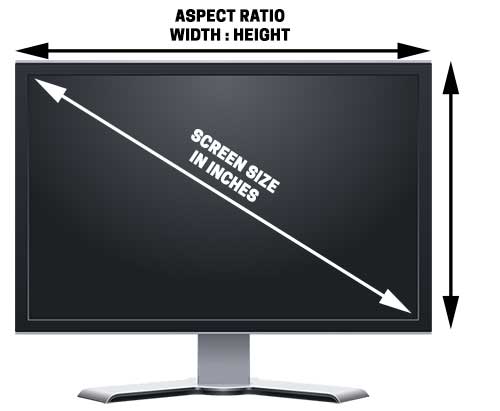 When it comes to screen sizes, there are only 2 basic things to know – The screen size and aspect ratio.
Screen sizes are usually measured in inches, and that is diagonally across.
As for the aspect ratio, it is simply the ratio of the width and height.
I personally prefer screens that are at least 24 inches. Small screens for coding is just meh; One does not simply buy a tiny screen and struggle to do coding on it.
RESOLUTION
The resolution is another basic specification, and it is simply the number of pixels (dots) on the screen. While some people preach "more pixels is better", it only makes me wonder if more pixels are really necessary for "better coding". Full HD (1920 X 1080) is good enough for most general and coding use, anything more is a plus.
VIEWING ANGLE
How far you can sit on the sides of the screen and still see it properly. Most modern screens have no problems with the viewing angle at all… This is not a huge deal-breaker unless you love to use the monitor at extreme angles.
BRIGHTNESS, COLOR DEPTH, CONTRAST
These are the specs that are worth paying some attention to.
Brightness – The maximum brightness of the monitor. Usually measured in candelas per square meter (cd/m2) or nit, the higher the brighter. So long as it is bright enough to match your working environment, it is good enough. No need to worry too much though, modern monitors typically don't have any issues matching the brightness of indoor lights.
Color Depth – The color depth determines how many shades of colors the monitor is capable of displaying. The deeper the color depth the merrier. Usually measured in bits or the exact number of colors.
Contrast Ratio – The difference between the darkest black and brightest white. Technically, the higher the better.
The key point though – The picture quality is hard to determine from just numbers, online pictures, and reviews. Sometimes, it is best to just go see the actual physical monitor and judge for yourself.
RESPONSE TIME & FRAME RATE
The response time and frame rate determine how fast the monitor can refresh the images on the screen. A slow slow response time and frame rate will suffer from what we call "ghosting", where moving images on the screen start to be perceived as blur by human brains. That is not good if you intend to play games and watch movies. Personally, I typically look out for:
A response time of 5ms or less.
A frame rate of at least 60 FPS.
ARE CURVED MONITORS BETTER FOR PROGRAMMING?
Curved monitors are supposedly better at panoramic movies and games. But that said, there are no scientific studies done on whether curved monitors are good nor bad for reading and programming. Guess it is pretty much a matter of your own personal preference.
DO WE REALLY NEED MULTIPLE MONITORS?
Personally, I find an ultrawide monitor to be good enough. Using half side of the screen for coding, and the other half for reference… But everyone has a different habit, and who knows, maybe there are code ninjas here who can code, do research, eat, drink, listen to music, play games, and watch videos all at the same time – That, you need multiple monitors. It's all up to you and your own needs.
MORE
If you want to know more about monitor specs in-depth, check out this guide on TFT Central.
THE END
Thank you for reading, and we have come to the end of this guide. I hope that it has helped you to better understand, and choose a good monitor. If you want to share anything with this guide, please feel free to comment below. Good luck and happy shopping!