Welcome to a list of Android and IOS apps to learn programming. So you are interested to learn the not-so-secret arts of coding? Once upon a time in the Iron Age of computing, online tutorials did not exist, and we had to borrow code bibles from the library. But thankfully these days, we have a ton of free learning apps and you can learn with your smartphone/tablet at any time.
But just which are the better ones? I installed a whole bunch of these learning apps, and let us walk through all of them in this guide – So that you don't have to install them one by one. Read on to find out!
P.S. The list is not really sorted in any particular order, although I tried to keep the recommended ones at the top.
1. SOLOLEARN
If you want to learn how to code, this is one app that I will truly recommend – It is also an editor's choice app on the Google Play Store. I have personally used SoloLearn a couple of years ago, and it has improved a lot since then. While SoloLearn does not go deep in their tutorials, they are good enough as the basics, and they do offer a wide range of languages – PHP, Javascript, Ruby, HTML, CSS, SQL, etc…
There are plenty of other features as well, such as coding exercises, progress tracking, a forum, and code sharing. The best part is that – It's free. Although there are a couple of paid features and unintrusive ads.
2. W3SCHOOLS
If you are looking to learn the ways of web development, then you may have already heard of W3Schools, one of the largest websites that offer free tutorials on "almost everything web development" – HTML, CSS, Javascript, PHP, ASP, jQuery, BootStrap, Angular, and more.
There is an app on the Play Store for W3Schools, but not so sure if it is official; It is published by an independent publisher, and the app itself seems to be just an integrated web browser that defaults to the W3Schools website… Definitely not an exciting app, but at least there is a wealth of knowledge to be dug up here.
3. UDEMY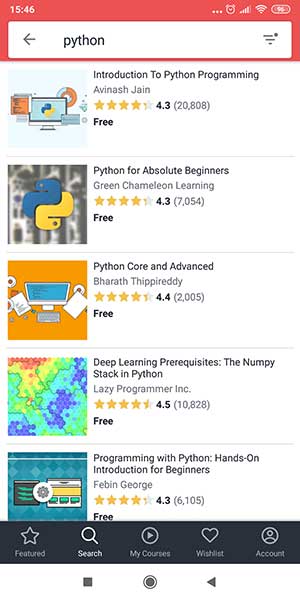 Not a sponsored link, but if you have not heard of Udemy – They host training courses offered by instructors all over the world. Of course, there are also a ton of programming related courses that you can access for free. Don't expect too much though, most people teach the basics for free, and you can expect to pay a little more if you want the advanced tutorials.
4. STUDY TONIGHT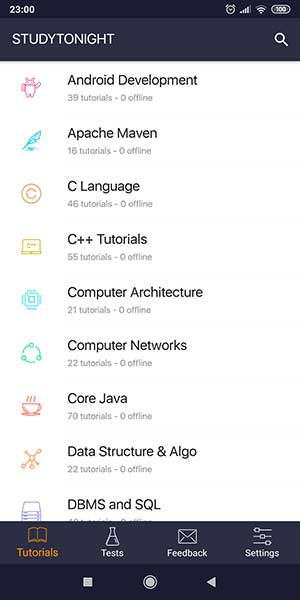 This one has a rather funky name… But it does offer good quality freebies. It is packed with plenty of step-by-step tutorials that are all related to coding, and there is plenty you can learn from this app.
5. PROGRAMMING HUB
Programming Hub is another editor's choice app in the Google Play Store, and it is easy to see why once you have installed it. It offers a whole load of languages and courses to choose from – HTML, CSS, Javascript, Java, Cryptography, Android, iOS, and more are still being added to it.
Apart from the basic step-by-step tutorials, it also keeps track of your progress, so you don't get lost after closing the app. However, it is irritating that they only offer a few bits of the basics, and the rest are all paid content.
6. ENCODE
Encode is a cool app that offers step-by-step tutorials for Python, Javascript, and HTML. Although it seems a little simplistic and each tutorial is very short – It does go in pretty deep, and the short steps are perfect for those of you who are impatient… The only not-so-good part is that you need to pay to unlock the intermediate tutorials. Which are literally free on the Internet everywhere.
7. CODE HUB
Code Hub is a simple app that offers tutorials for some of the basics, HTML, and CSS. Not very interesting nor in-depth, but it is sufficient for one to learn the raw basics. It does include some training videos though.
8. STEPIK: FREE COURSES
Although Stepik does not really go deep into the advanced stuff, they do have all of the basics covered – Step-by-step, and for free! They also offer tutorials on topics other than programming, so it's worth a look.
9. GRASSHOPPER: LEARN TO CODE FOR FREE
The green little bug is an interesting one. It offers an easy to understand series of tutorials in a very graphical way. Definitely one to try out if you have trouble reading long chunks of text… But be warned though, there seems to be some performance issue with this app, and it seems to drain batteries.
10. COURSERA
Coursera is a free app that offers a lot of courses to choose from, and not just for programming. Sadly as a free user, you can only access some of the free course materials and not the entire course… but for a good reason. All the paid courses on this app are actually backed by legit universities, so they should be recognized to a certain degree.
11. PROGRAMMING HERO
Programming Hero is a not-so-intimidating way to learn how to code, by building a simple game step-by-step. While this is an interesting idea, I already know how complex the simplest games can be as a seasoned programmer… It may not be the best idea to use "building a game" as a goal for total beginners.
But who knows, this is still in the early stages at the time of writing, and they might just surprise us. 10/10 for the effort, and doing something different from the rest though.
12. KHAN ACADEMY
Khan Academy is yet another big boy on the Internet that teaches not just about everything – Math, Science, Economics, History, and more. While it does not have in-depth technical guides on programming, there is still plenty of related computer science and basic knowledge to dig from this app.
13. HACKR.IO
Heck yeah! This app sounds pretty darn cool at first, it offers a ton of different things that you can learn about programming and hacking… But after digging just a little bit more, you will realize that they are nothing more than links to other websites.
Yep, this is not really that useful if you are looking for step-by-step tutorials, and the quality of each one varies. Still, this is a pretty good collection of links that might be worth your time.
14. CODER HUB
Not to be confused with Code Hub, Coder Hub is yet another app that offers free coding tutorials. Although the tutorials are all free, I am personally not quite a fan of this one… It seems to be just a compilation of whatever they have on their blog, and the order of the tutorials are all upside down (the first is at the bottom).
15. ALGORITHM CITY
This is kind of an Easter egg, an app that is actually made to teach children the basics and ideas of programming… But who says that overaged kids can't have a little bit of fun?
16. MIMO: LEARN TO CODE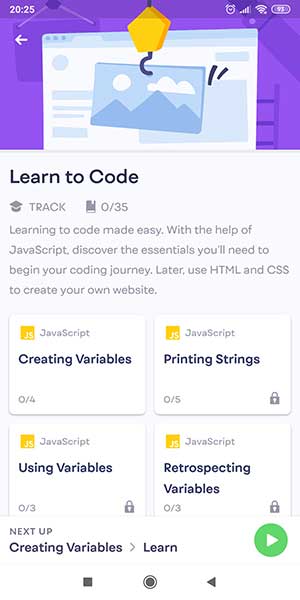 Mimo is an editor's choice app on Google Play Store, and actually got good reviews on iTunes as well. It seems like a very polished app with nice designs and step-by-step tutorial lessons. But there is a reason why I placed it down at the bottom of this list. It is essentially a paid app… Even the raw basics need to be unlocked by paying. This is not a friendly app for beginners who want to learn.
MORE – EBOOKS
There are also various (FREE) ebooks on programming that can download from the Google Play Store – Do check them out!